Returning to the US: An Interview with Heads of Cambridge North America
Originally founded in Cambridge, Massachusetts, Cambridge Technology Partners Limited (Japan) is now the only bearer of the brand that once had revenue of $628M and over 4,000 employees worldwide before being acquired. It was always a dream to reenter the US market and reintroduce the Cambridge Technology Partners brand. Last November, Cambridge realized that dream and launched its office in Torrance, California. Returning to start operations in North America are Cambridge alumni Brian and Ron. We sat down with them on a video conference call to talk about the value Cambridge can provide to Japanese companies in the US.
Starting Back Up in North America
Brian, you were with Cambridge 7 years, including 4 years in Japan. Ron, you were with Cambridge in Japan for over 6 years. Did you two ever work together?
Ron: Yes, we did! I had just graduated college and it was my first "on the job" assignment in Japan. After that, we kept in touch over the years and now we are back together starting up Cambridge in the US. Even though I never imagined us working together again after nearly 20 years, it has been very easy for us to collaborate since we both share the same work foundation from our many years at Cambridge.
Brian: Also, since we have fairly different skillsets, it's been very productive working together. I have a fairly long history in technical project management after many years in media and entertainment IT, and Ron has a deep knowledge of business. It's a good balance.
Ron: Agreed. After I got my MBA from New York University, I worked for many years at a Japanese internet company doing corporate strategy, M&A, and starting up new businesses. My expertise is in strategy formulation and business plan development.
Tell us a little bit about the current state of the North America business.
Ron: We established the company and opened the office in late 2019. As we begin 2020, we have made some initial hires and established our internal processes. We settled on the services and solutions we plan to provide in this market and are ready to begin service delivery.
Different Barriers to Change?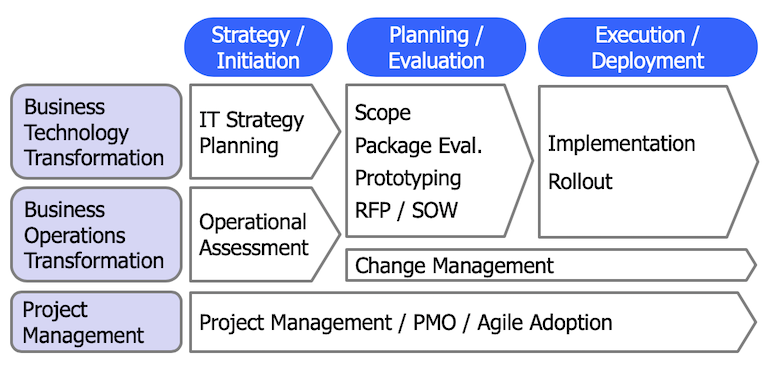 Cambridge US Services
Will services differ from those in Japan?
Brian: They're basically the same. We'll provide the same types of consulting services as we do in Japan. We'll deliver global projects together with Japan, and our company's experience and knowledge base are major strengths. We will focus on business transformation projects, facilitating both technology and operations change, as well as PMO (Project Management Office).
Ron: We'll definitely start with our core strength of leading successful transformation projects. We often hear about the challenges faced by Japanese companies when implementing change efforts locally. It's challenging enough leading this kind of initiative in one's home office, let alone trying to overcome the barriers of driving change at a global scale.
Specifically, what sort of barriers to change are there?
Ron: There are different values and sense of ownership toward work, and the business culture is quite different. For example, large change initiatives are often equated with layoffs in the US, so people can be much more resistant to change. And of course, there is the language barrier. Superficial communication is not enough to overcome these barriers to change. You have to build trust with each stakeholder, show the merit of change at the individual level, and consider the other human factors while managing these projects. The Cambridge methodology considers these factors in dealing with resistance to change.
Brian: It's critical to collaborate with the home office in Japan. Local investment in IT often requires additional approvals from the home office, and you also need to involve the local business units when planning out new global initiatives. Project success requires managing stakeholders in both countries. Leading change efforts in both the US and Japan is where we really think Cambridge can provide value.
Effective Facilitation is Universal
How do you plan on helping projects be more successful?
Brian: The original Cambridge methodology was developed in the US and was the driving force behind many successful projects all over the world. The methodology has evolved in Japan to also include a high level of customer service. It's a facilitative approach to consulting, which is why we say our mission is to "facilitate positive change."
Ron: I have experience putting together a long-term strategy from scratch for a US tech company, and those strategy documents are still referenced 8 years later. The secret behind a strategy that sticks is facilitation. You first do your due diligence by meeting with each leader and resolving their concerns. After laying that groundwork, you can lead multiple discussions at management offsites, where you help those same leaders verbalize the issues and strategy going forward. The key here is that the facilitator owns the process and the participants own the content. It doesn't matter if it's Japan or the US, this consensus-building process is a critical success factor (CSF) for any change initiative.
Brian: Another universal project success factor is planning ahead. It's very difficult to manage a project across multiple locations, using multiple packages and vendors, without paying close attention to the issues with the greatest potential impact on the project schedule. Adding to that complexity are tracking milestones for getting approvals from and reporting to Japan. Our methodology's considerations for managing multiple stakeholders as well as issue and risk management is something we think will have real value.
Becoming a Global Trusted Partner
Left: Brian, Right: Ron
It's definitely a challenge to coordinate an IT strategy or project roadmap for a global company. What issues do you see from a governance standpoint?
Ron: There are cases where the local operation has implemented their own systems, resulting in lost opportunities for global optimization and alignment. We also see cases where global systems and processes are forced on a subsidiary without consideration of their local needs.
Brian: What's most important is that a company's IT architecture is aligned with their operating model. IT governance should be designed to encourage companywide collaboration where it makes sense, and business units should be allowed to innovate where appropriate for local markets. Project funding should be managed in the same way. We hope to facilitate these discussions so that there is consensus for all major IT decisions.
Lastly, tell us your aspirations for the North America business.
Ron: I came back because I believe in the Cambridge culture, and hope to infuse that into our US operations. I also want to highlight those values through our involvement in change initiatives.
Brian: I hope we can become a trusted global partner by facilitating change across different languages, time zones, values, and cultures.
To learn more, contact us by email or follow us on LinkedIn.
Tweet